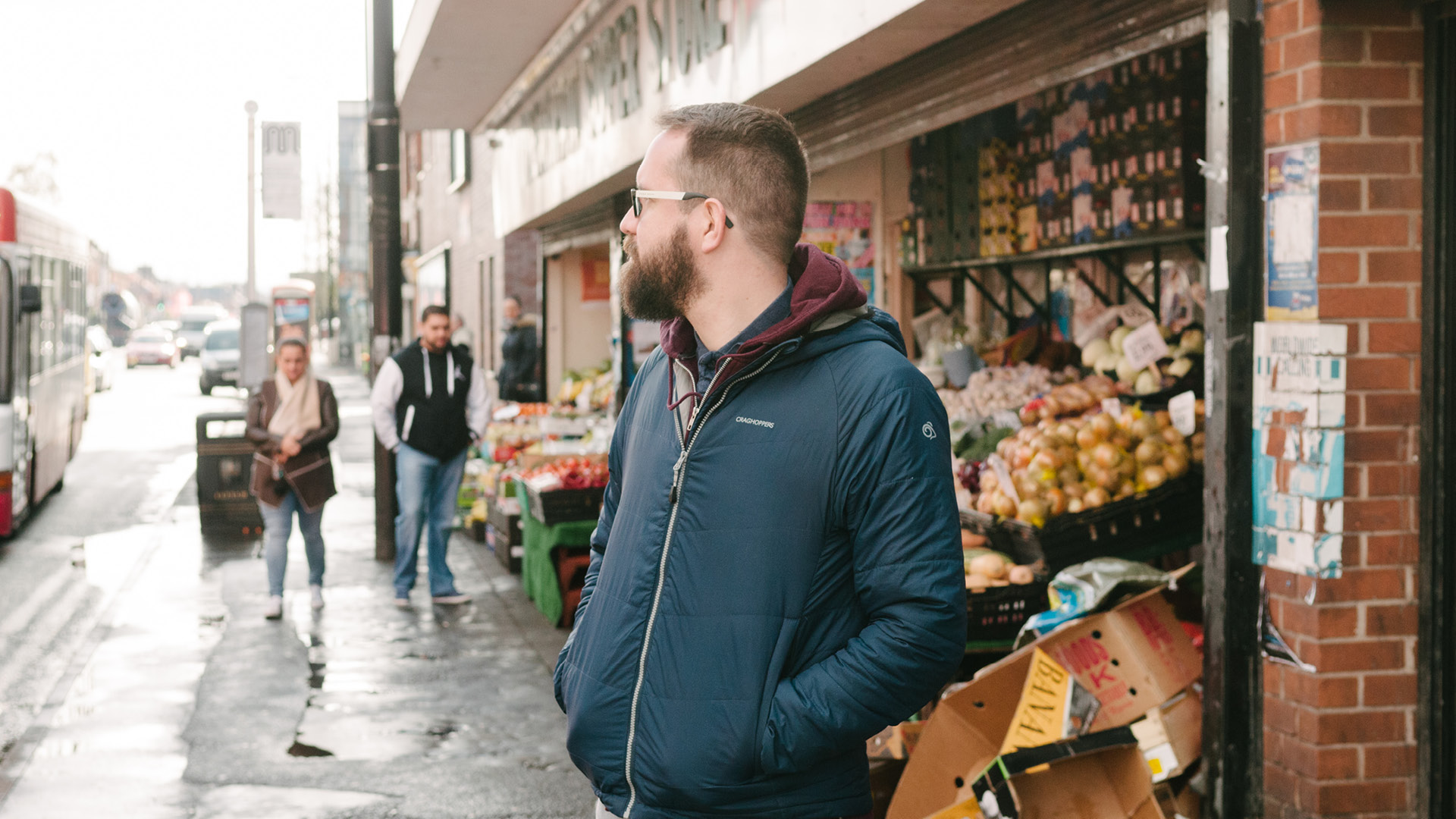 Community
---
Our Vision
I imagine Shaun was pretty nervous as he approached the prison gates that morning.
For once he was not arriving in a 'sweatbox' accompanied by G4S security staff but I'm sure that the drugs and SIM cards he was carrying between his butt cheeks added a new level of anxiety to his visit. It was neither Shaun's unkempt appearance nor unforgettable face that drew the attention of the prison staff as he stood in line but rather the fact that a sniffer dog came and sat next to him as he emptied his pockets into a scanner tray. Shaun was quickly apprehended. Confessing all during the strip search, he was arrested, charged and bailed for sentencing before anyone even knew he was missing.
Shaun and I had been due to meet that night with another guy from the neighbourhood. We had committed to meeting regularly for a discipleship group I liked to call 'Five Guys, Three Blokes, One Bible.' We all enjoyed devouring burgers and the scriptures. I discovered Shaun's change of circumstances when I had dropped round to pick him up. I remember being so angry with him, so disappointed, so frustrated. It was a major backwards step in his discipleship journey. It might now be many years before Shaun and I next enjoyed fresh roll stamped prime beef whilst unpacking the unmerited favour of God together. Shaun had been making steady progress away from criminality so his actions now made little sense. I feared that Shaun had been concealing more than drugs and SIM cards and what was coming to light was a lifestyle that was not consistent with the man I was journeying towards Jesus with.
On the weekend before Shaun's sentencing, our Eden teams from around the network gathered for the annual Teams' Day. My heart broke as I shared Shaun's story and we prayed together for the miraculous to take place – although I confess I wasn't sure what that would look like. I was desperate to be present for the sentencing but it conflicted with our monthly Prayer Day at Message HQ. Prayer Days takes precedence, so despite the pain, prayer was my priority that day. Taking advice, I wrote to the judge through Shaun's barrister. Expressing both my disappointment and surprise, I highlighted his character and detailed the change I had witnessed through the years and the progress that I felt was now at risk.
I spent Prayer Day selfishly praying about nothing else and as soon as the day was done I phoned Shaun's partner for news. I skipped the intro and small talk and simply blurted out 'What's the news?' as if my freedom depended on it. 'Ask him yourself!' she replied and handed the phone to Shaun who was, to my surprise, sat on the sofa next to her. I wasted no time chatting things through on the phone and raced round for the full story. For a man expecting a six-year sentence, Shaun seemed far too relaxed as I bounded into the room with hopes of a big reunion. He remained seated and greeted me between sucks on a very thin roll-up as though it were just an ordinary day. I probed for the story. I needed the finer details of the drama but received none. I was hoping to spot the ingredients of a miracle and admire the beauty of God's handiwork, but Shaun simply said that the judge had let him go. He's been released on a conditional discharge and was home in time for lunch. I told him about the endless prayer and about my letter to the judge, but his nonchalance implied that neither had been necessary. He seemed more impressed with the trainers I had bought him for jail than the freedom Christ has bought him earlier that day.
Shaun knows God, I am convinced of that, but his life is far from that which God intends him to lead. His life is still blighted by addiction. He is jobless and virtually unemployable. He is penniless in the extreme. His family have all but abandoned him and his health is terrible. The Health Service doesn't know what to do with him, and the drugs services seem happy to keep him permanently medicated on methadone. Shaun epitomises the poverty of my community and much of our nation. How do we bring change to Shaun's life? How do we bring transformation to the poorest people in our neighbourhoods? What is the answer to this most complex of issues?
For me, resolving the issues of poverty with more projects and services is not the answer. Hand-outs of stuff and handfuls of advice only build dependency around our services. I believe the answer is community. Christ-centred community. Kingdom community. The opposite of poverty is not prosperity, it is community. Having genuine community around us is the closest we will come to tasting the kingdom of God.
Why is it that drug addicts huddle together? Why is it that people with chaotic and broken lives form friendship groups together? Because they are looking for, and are dependant upon, a community. We need community to survive, we need community to thrive. We should not be surprised by this: scripture tells us that it is not good for us to be alone. After declaring to us that everything he created is good, God tells us of the first thing that is not good: 'Then the Lord God said, "It is not good that the man should be alone; I will make him a helper fit forhim"' (Genesis 2:18). It is Adam's aloneness and isolation that is not good. Adam is created in the image of God yet something is not satisfactory – his lack of community has to be rectified. Adam was created from mud, yet made in the image of God. We are not designed to be alone – we are designed for union and unity with others. We are designed to be in communion and community.
The nature of God is Trinitarian. Our God is Three-in-One, Father, Spirit and Son. The Trinity is inseparable and they will be together for eternity. This is how we are made – in the image of God. Made for community. Made to be together with others. Designed uniquely to work in unity. 'So God created mankind in his own image, in the image of God he created them; male and female he created them' (Genesis 1:27). I am convinced that the first attribute of the Imago Dei, the image of God, is oneness – unity. We don't work well on our own, it is against our design, yet our society tell us that individualism is the ideal. Culture esteems 'it is good to be alone'. Independence is considered of prime import, and being self-made and self-sufficient is the image of success. Our present age places greater value on care for ourselves rather than those around us. I believe this is anti-kingdom and anti-God.
Psalms 68:6 tells us that God sets the lonely in families. Why? because that is where they are supposed to be. We were designed by a relational God for relationships. It is only in genuine loving relationships that the needs of the broken can be met and ministered to.
I took Shaun with me to the launch of a new Eden team. Shaun loves to be my wingman especially on long journeys when we have a good amount of time to talk (and the justification to get McDonalds drive-thru.) We arrived at the event in good time and settled in. As I nipped into a side room to pray for the event, Shaun told me he would nip outside for a cigarette. It wasn't long before the service began and Shaun was nowhere to be seen. I knew I was due to speak after the third song and with no sign of Shaun, I was beginning to get concerned. Then, just as the final song came into land, Shaun rushed in alongside me. I felt relieved by his return but a bit miffed by his absence. Under my breath and in a muffled tone I enquired about his disappearance. His answer was short and very sweet. Unfurling his hand, he revealed five penny sweets. He said, 'I bought you these – I know you get nervous and appreciate sweets before you get up to speak.' He had gone in search of a corner shop and spent his remaining pennies to bless me. I was moved to tears as I stuffed the jelly beans into my mouth and headed to the platform. I knew that I was loved and understood in that moment. Community is transformational.
This is what Eden does best. We are the people that have chosen to come near to the broken and commune with them. We don't exist as an exclusive community but as a family for the lost and the lonely. There is something so appealing about authentic community. Jesus says in John 13:35, 'By this everyone will know that you are my disciples, if you love one another.'
We are recognised as the people of Christ when we love one another. People will see Jesus when we love those around us. People see the God of love as we love them. Following the ways of Jesus is far more attractive when you are sharing the journey with a community of believers. We are called to make community with Christ at the centre. Communities that reflect the love of Jesus. Communities that taste heaven. Communities where all are welcome and all receive comfort, are challenged and cherished.