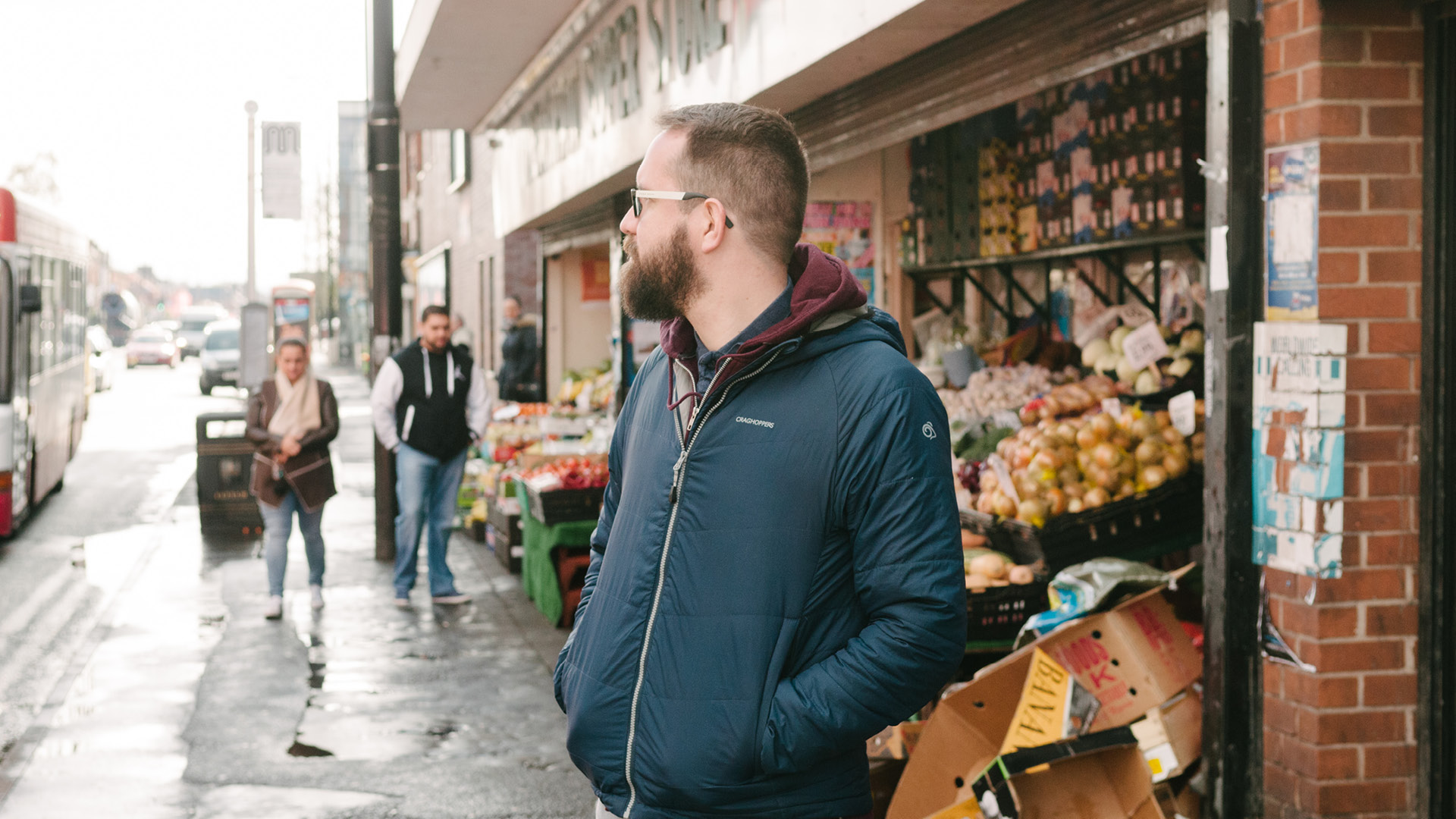 Sacrifice
---
Our Vision
One of first people I saw come to faith on Eden was Nikan, a young Iranian man.
Nikan moved into the flat above the local pizza shop shortly after the Eden Openshaw team moved in. He had relocated from Tehran to begin a journey of independence and a student visa was his ticket. I am not convinced Nikan was looking for a church when he followed a group of people into our prayer meeting that Friday evening, but he stuck around as we worshiped and prayed. As the meeting came to an end I attempted to connect with him and through broken English I learnt his name, if little else. I told him we would meet again on Sunday morning and raised both hands to count off my fingers to indicate the time he should arrive. We nodded at each other a lot and smiled. I am grateful to God for the friendship begun that night. Nikan arrived at 10am sharp that Sunday morning – and every Sunday after.
My wife Nicci and I were invited to his flat one Sunday after church to share in an Iranian barbeque with some of his friends. We sat at the dinner table looking awkward for what seemed like hours as the men busied themselves in the kitchen, occasionally dashing up and down the fire escape to tend to the barbeque set up in the yard below. The table was laid around us and finally the food arrived. First up, a plate full of something meaty was placed before each of us and we were encouraged to begin eating without them. I had never tasted a meat like this before – it was soft and bouncy like a meaty marshmallow. I wish I could tell you I liked it but the texture alone made it less than pleasant. Nicci, who once claimed that it was only the McDonald's breakfasts that had kept her from a vegetarian lifestyle, looked at me for help as she began to chew. When Nikan next passed by the table I politely enquired about the delicacy. Placing his hands on his chest and between huge gasps of breath, he said 'Is… the… sheep.' It took me a moment to realise we were eating lamb lungs. As Nikan left, I filled my mouth with as much as possible as Nicci filled my plate with the contents of hers. When he returned with chicken kebab skewers, our plates were empty. Nikan was convinced we had enjoyed the first course so much that he offered to refill our plates with the remaining lungs.
As our relationship deepened, and as Nikan's English improved, it was clear that he was progressing in his understanding of faith. Nikan would attend anything he could and carried his Farsi Bible with him everywhere like an extra limb. With a number of people ready for baptism, we headed to the sea as a church and, when everyone had been dunked, Nikan (with no spare clothes or towel) insisted he too should be baptised. Confessing his faith in Jesus and turning his back on Islam, he was washed clean in the murky waters of the Irish Sea.
It wasn't long after that, that Nikan was badly beaten by a group of Iranian men as he walked down a street in Longsight, Manchester. As they delivered blows to his body they delivered a message from Iran to return to his former faith or face the consequences. Nikan began to count the cost of following Christ.
Over the course of the next decade, Nikan tried and failed to claim asylum in the UK. He lived with the fear that deportation to Iran would have dire consequences. One morning as he attended the immigration centre, as was his monthly routine, he was detained and processed for deportation. I visited him in the cells at Manchester Airport just a few days before he was flown to Tehran. His only possessions were a cheap mobile phone, his Farsi Bible and the gold crucifix that hung around his neck.
I feared for his life as I waited for news. It was many weeks before a WhatsApp message popped up on my phone. Nikan had managed to flee across the border to Turkey and had joined the many migrants seeking to cross into Europe. He sent me a photo of himself from a refugee camp wearing a foil blanket similar to those given to marathon runners at the finish line. It all went silent for a number of months. I waited anxiously, wondering if he'd surprise me one day by arriving at my door. But his next message came from Iran: Nikan had been sent back, jailed and then released pending trial. Nikan bizarrely sent me a photograph of the pizza shop where he had found some casual work. We exchanged prayers and scriptures before more months of silence.
I grew increasingly worried and one day felt particularly stirred to pray and fast. Struggling to know how to pray, I began to scroll back through all our text conversations for inspiration. As I came to the picture of the pizza shop in Tehran I noticed it had the phone number printed on the signage above the door. In a moment of madness, I dialled the number. It was only as it began to ring that I realised I had no idea what I would say if someone answered the phone. A lady answered and I gave her all the Farsi I could remember – 'Hello, how are you, I'm fine, good to see you' – and then I said Nikan's name a couple of times. The phone went silent for a moment until, to my surprise, Nikan came on the line. My joy was crushed in an instant as Nikan promptly told me to hang up immediately and await his call.
When Nikan finally called, he told me of his ordeal, of his arrest and punishment and how he had been released that same day. I was overwhelmed to find out that on the morning I felt to pray for Nikan, the courts had freed him. He was able to return to work temporarily before his final sentencing. We wept together and prayed.
Nikan faces an uncertain future. He has been told he could face the death penalty. He could be recalled to court at any moment, so I have no idea if my next message will be the last. I once asked him if he should attend the mosque just to stay safe. He said, 'How can I? I believe in God.' I asked him if he was scared. He replied, 'I have nothing to fear – I have Jesus.'
The Eden Network talks a lot about sacrifice. We follow the example of the incarnation as Jesus made himself nothing by taking the very nature of a servant and humbled himself for our sake. We talk about sacrificial living and counting the cost. We understand that the call to Eden is a costly one. We expose ourselves and our families to a level of risk that many consider too high.
On my first visit to Openshaw, I remember touring around the estate with future team members in a Peugeot 306, dreaming dreams and counting the cost. We zigzagged up barren streets with boarded-up houses and many visible signs of brokenness and disorder. The estate had a reputation and I knew relocating wasn't going to come cheap. I was moving from the safety of the suburbs to the chaos of an inner-city community.
I love how the Apostle Paul describes the sacrifice of Christ as a fragrant offering, and calls the Ephesian church to follow the example of Christ: 'Follow God's example, therefore, as dearly loved children and walk in the way of love, just as Christ loved us and gave himself up for us as a fragrant offering and sacrifice to God' (Ephesians 5:1-2).
We want to be a people who smell good. We want our sacrificial living to reek of the fragrance that heaven adores. We want to be a people who are so consumed with the mercy of Jesus that we offer our lives to his mission. We want to be a network so grateful for the sacrifice of Christ that we are willing to sacrifice whatever it takes to worship him.
Interestingly, Paul calls the Corinthian church to follow his example, as he follows the example of Christ. Maybe it is easiest to following the example of Jesus when it is displayed most tangibly in the lives those who lead us. This is true disciple-making and I believe it should always be one of sacrifice. We should be looking to replicate this model of following. We should be calling others to follow us as we follow the example of Paul, who in turn pursued Jesus. We should not be surprised when those who witness our sacrificial lives begin to imitate ours. I have been so blessed when members of my community have taken in the homeless, fed the hungry, volunteered their time and have seen families won for Jesus. We should be expecting to see lives of radical surrender if we are modelling it.
Nikan's willingness to literally lay his life down in view of the mercy of God brings into sharp relief the impact our sacrificial lives have. This is a challenge to our teams who need to be careful that the radical move from suburb to city is not the first and last time they chose to imitate radical sacrifice. Sacrificial living must continue. We must carry on counting the cost, consistently asking, 'What is the sacrifice we are called to?' Yesterday's sacrifice may not be what is asked of us today. The day that sacrifice stops, mission dies.
Paul calls the Christian life one of 'living sacrifice' (Romans 12:1). It is said that the problem with living sacrifices is that they can climb down from the altar when the going gets tough. Eden volunteers have to be careful not to rest prideful in the knowledge that they once made the radical step of downward mobility and overlook the responsibility to live faithfully, imitating the sacrifice of Jesus and those who pursue him. We cannot step away from living sacrificially when the going gets tough. And love is by far the toughest sacrifice.
Later in Romans chapter 12, Paul asks us to 'love sincerely' (v.9). The love Paul writes of is agape love, sacrificial love. Agape love describes the love that God has for his people. This is the kind of love that sent Jesus to the cross. We are called to this kind of love and to do it sincerely. Loving others is by nature deeply costly.
All our Eden teams know that the most challenging thing about Eden is not the burglaries and break-ins, the assaults or insults, but the cost of genuinely loving our neighbours. When you live deeply, loving without pretence is expensive. Often we prepare ourselves to love without receiving anything in return, but it is in those moments when our love is disregarded or dismissed that we move to a new level of sacrifice. It is when we vulnerably give our love to our neighbours for the sake of the Christ and face ridicule or rejection that the cost really bites. The example we follow is to walk in the way of love. The cost of relocation from city to suburb is not the real cost – love is. Yet we live with the assurance that sacrificial love smells sweet. Sacrificial love is the fragrance of heaven, the aroma of God himself. This is the most expense perfume in all eternity and we have the recipe.