Liz, Will & Faith
---
Eden Buttershaw
Bradford
Liz, Will and Faith share their story of moving their whole family to Buttershaw in Bradford to join an Eden team.
When we first heard about Eden we felt a strong calling, but we also knew that if it was right, it had to be right for all of us. Faith was about nine years old at the time, and she really did not want to go. We visited Buttershaw as a possibility, and as we were driving up the M1 she said, "I don't know why we're bothering. We're not moving." The turning point came when God spoke directly to Faith. He gave her a picture of a red balloon stuck inside a white house, and it couldn't get out. Through tears, she told us: "God says we've got to move to Bradford, but I don't want to go." We were completely shocked. What was amazing was that, after her initial sadness, Faith really started to lead the way. God gave her prophetic words, and she even painted pictures. She was way ahead of us and just ran with it.
We visited Buttershaw on a Saturday morning and when we got out of the car and sat on the church wall it just felt like we were home. It's hard to explain but we felt such peace about it. It's a large estate of about 7000 people, and for a number of years it was known as the drugs capital of Yorkshire. The council and the government have consistently failed to keep their promises to Buttershaw, and people here just feel let down, again and again. There is a real lack of hope, which tends to show itself in things like petty crime, teenage pregnancies, and families that haven't worked for two or three generations, surviving on benefits.
We've also noticed that it's not the kind of estate where people are constantly hanging around and chatting in the street. People are generally quite wary of each other and it can be difficult to really get to know someone. We've been here for 18 months and it feels like we're only just starting to build real friendships. Most families have lived here for several generations, so it's quite unusual to have outsiders coming in, but this is both a challenge and a brilliant opportunity for us to build authentic community. That's one of the great things about Eden – you're not just stepping in from the outside with a handful of quick-fixes, you're setting down roots, making a home and a life in this place. It's all about relationship.
Will works at a family centre on the estate that employs 45-50 people, and over 80% are local to Buttershaw, so it's probably one of the biggest employers in Buttershaw. We get local kids coming through the nursery, to be taught by local people, so it's playing a big part in building a stronger sense of community and starting to break the cycle of hopelessness.
One of the things that we're really praying for is to reach more of the young people in Buttershaw – motivating them to get up and out of the house, away from their screens and devices – and the only way we can really do that is by living it, and by encouraging the young people who are already engaging with us. We have a youth social every couple of months, and the young people are starting to get to the point where they're comfortable inviting their friends along, so that helps us to reach even more of Buttershaw's youth and make those connections. We then have two lifegroups that have grown out of this, and a Youth Church gathering every other week. So there are lots of points of contact for starting to build those relationships, as well as opportunities to encounter Jesus and the gospel and go deeper, when they're ready for that. Lots of the parents have been absolutely blown away by what the Eden team is doing, and how we're investing in their children, because it's just not what they have been used to in Buttershaw.
Liz also helps with the girls' group at the local council-run youth club, which is a really good chance to get to know some of the local girls. Now we're starting to see some of them coming along to the socials, and a couple have even got involved with lifegroups and Youth Church. It's all starting to blend a little bit, in a really natural way.
One of the things that we've noticed over the last few months is that if we just sit here waiting for people to come to us it's not going to happen. We need to go out there and meet people where they are. At Halloween, for example, we decided not to hide away at the back of the house with the lights off but to be visible, and to meet darkness with light. We set up out at the front of the house with hot chocolate and "Bags of Hope" (chocolate and a Bible verse!). We probably saw over 100 kids that night and were able to send them away with the good news of the gospel, rather than letting fear and darkness have the last word.
Faith was such a big factor in our decision to make this move, and it has been amazing to see how God has provided for her here. She was at the local primary school on the estate for just a year and made better friends there than she had done at her previous school down south. This was a real answer to prayer. She has grown and thrived through the Eden groups too, mixing with the other kids and laughing off jokes about her exotic southern accent! She goes to a girls' breakfast every month, and Liz has deliberately taken a step back from this to give her the space to get involved on her own terms.
Before we committed to Eden we wanted to speak to another team member who had made the move with school-aged children, to encourage us that we were doing the right thing for Faith, but there didn't seem to be anyone! It just goes against the grain to uproot your family, take your children out of school, leave your comfortable church and your middle class life and move hundreds of miles across the country. But, for us, it really helped that we all clearly knew that it was the right thing. There has been no point when we've questioned why we're doing this. There are things we have had to leave behind, and there are certainly challenges, but it would feel a hundred times worse to live our lives knowing that God had called us to something and we weren't walking in it. Hopefully we can be that one family that did it, and can be an encouragement to others. We feel really passionate about this: if God calls you, He calls you as a family.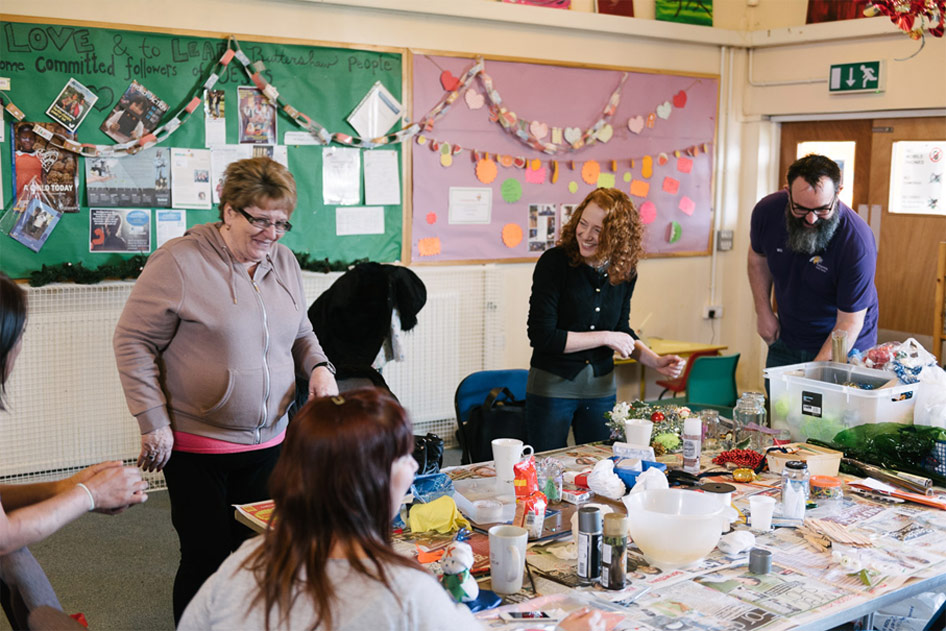 Whatever we were giving up, we couldn't not come. We knew we were meant to be here, and we have always felt at home in Buttershaw. Whenever we've been away for a few days, driving back into the estate just feels right. It feels like coming home.